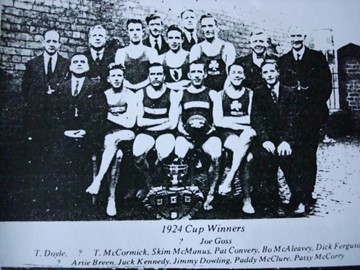 Clonard Swimming and Water Polo Club's Kevin Armstrong was on Tuesday evening elected President of the Ireland Water Polo Committee, in an historic year for his Belfast-based club.
Clonard's life began at a time not too dissimilar from today. The Irish War of Independence was still raging, and there was political upheaval. The world had also just emerged from the Spanish Flu pandemic.
Founded in 1921 in West Belfast, its first aim was to teach its members how to swim, but Clonard quickly grew into a sporting institution, drawing members from far and wide throughout the city and beyond.
It flourished under the guidance of its founders and in 1924 the club won its first of 28 Irish Senior Cup titles, with Paddy McClure also becoming the club's first Irish Swimming Champion.
Clonard Olympians
Paddy went on to win 13 Irish swimming titles – seven of them the 100m freestyle – and represented Ireland at the 1928 Olympics in Water Polo and Swimming.
Two other Clonard players also became Olympians, one of the founders Pat Convery playing in goal for Ireland's Water Polo team at Paris 1924 and Willie Broderick joining Paddy McClure on the 1928 Olympic swimming team in Amsterdam.
Remarkably, six of the 11 players who competed in the 1966 and 1970 European Water Polo Championships for Ireland came from Clonard, and the club today holds the Irish U15 Boys Champions title.
New President
Kevin Armstrong's appointment to President this week at the Ireland Water Polo AGM represents Clonard's standing in the Irish water polo, and also swimming, community.
A spokesperson said: "Clonard is justly proud to have brought swimming and waterpolo to thousands of young people in Belfast over the years.
"Clonard has always striven for excellence but primarily the aim of its array of volunteers has been to provide a welcoming and safe environment for young people to learn and enjoy the benefits of a magnificent sport.
"To celebrate our centenary we hope to stage several events, COVID permitting, later in the year including Junior and Masters Tournaments, an Open Sea Swim and finally a Gala Dinner. Dates will depend on any restrictions in place."
To find full details of Ireland Water Polo's committee for 2021 please click here
https://irelandwaterpolo.ie/wp-content/uploads/2021/02/Clonard-WPC.jpg
270
360
Ireland Waterpolo
https://irelandwaterpolo.ie/wp-content/uploads/2020/07/logo.png
Ireland Waterpolo
2021-02-12 15:07:24
2021-02-12 15:07:24
Clonard Player New President in Club's 100th Year