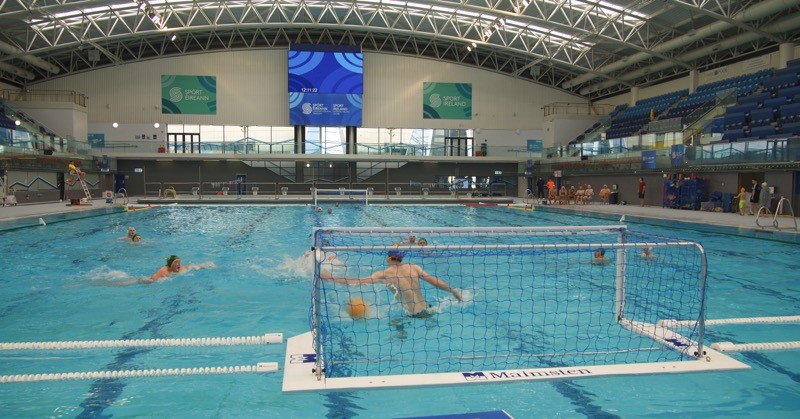 History was made in the National Aquatic Centre today when the Irish Water Polo leagues were played in the full size 50m pool for the first time, the international standard for the sport.
Water Polo is a professional sport, most notably in Eastern Europe and the USA and the playing area within the pool is 30 metres by 20 metres. The Irish team have therefore been immediately at a disadvantage because up to now they have played their matches in a 25m pool. It's equivalent to the Irish soccer team playing their league games on a smaller pitch.
The other disadvantage they face is that the Irish players are all amateurs who hold down regular jobs, much like GAA players. When they go abroad they compete against full time paid athletes but at least for this season they will not face the additional disadvantage of having to adapt to playing in bigger pools.
The captain of the Irish men's national team today welcomed the development as "a significant step forward."
"Historically water polo, a minority sport has played second fiddle to swimming in the aquatic centre," Eoin Bridgeman said.
"Regular games in the competition pool will not only raise the standard of matches but also increase the sport's visibility."
Water polo is an all-island sport like rugby, with teams competing from all over the country including the North. A minute's silence was held after the ball was thrown in for the first match today in memory of the former Ireland Water Polo and Cathal Brugha President Gerry O' Neil, who recently passed away.
The players stopped where they were in the water as spectators and competitors stood in silence and then applauded.
The Dublin club St Vincent's won the first match 11-6 against their rivals Sandycove but not before they coughed up a six goal lead to allow the southsiders to come within one goal of them in the third quarter. There were also wins today for North Dublin over Belfast club Clonard and Galway's Corrib over Dublin's Clontarf.
League and cup holders Cathal Brugha beat Drogheda but didn't have it as easy as they might have expected, only winning by 12-9.
All first division league games this season are scheduled to be played in the 50m pool.
Credit – Paul Reynolds, RTE
https://www.rte.ie/sport/other-sport/2022/0925/1325436-water-polo-history-made-at-the-national-aquatic-centre/?fbclid=IwAR3T8R9Nq60_3mSB386qSpw39Z5TnSQrmFsETzQo6R06BzEUjXiqBCholuE 
Photos – Ian Hanrahan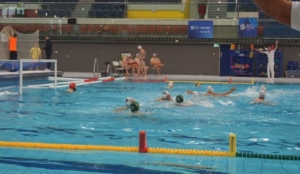 https://irelandwaterpolo.ie/wp-content/uploads/2022/09/NAC-25th-Sept-2022.jpg
419
800
Keith Lynch
https://irelandwaterpolo.ie/wp-content/uploads/2020/07/logo.png
Keith Lynch
2022-09-26 16:17:37
2022-09-26 21:15:06
Water Polo History Made at the NAC